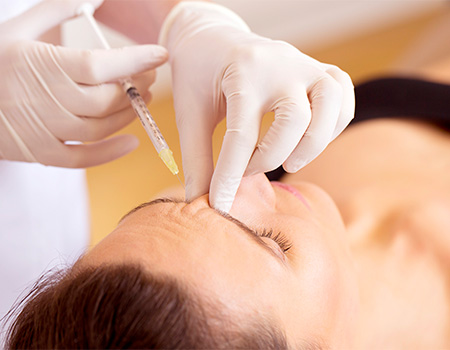 About the toxin injection
Botulinum toxin is a non-surgical treatment used primarily to reduce so-called mimic wrinkles. Botulinum toxin is injected into the treatment area. The toxin is also used as a treatment for excessive sweating and for migraine relief.
Injecting botulinum toxin stops the release of the neurotransmitter acetylcholine, which causes the muscles to relax and prevents them from contracting. Thus, the overlying skin relaxes permanently and wrinkles are smoothed. This effect lasts up to six months. Through correct application and precise dosage, the natural facial expression is preserved and there are hardly any side effects.
Book an appointment online now
Post-Treatment Instructions
There is no downtime after a botulinum toxin treatment. The patient can leave the institute immediately after treatment.
In the first four hours after treatment, it is important to prevent being in a lateral position, so as to avoid an uneven distribution of the material. Likewise, facial massages, laser treatments, sauna, and solarium visits should all be avoided within the first 3 days after treatment.
After consultation with your doctor, you will be presented with an offer fit for your individual needs.
Valid as of January 2021.
Subject to change.
All prices are subject to
Typographical and printing errors.
In a botulinum toxin treatment, the active ingredient is injected locally into the affected area using a fine needle. The injection stops the release of aetylcholine from nerve cells, which causes muscle areas to stop contracting and also reduces the activity of sweat glands. This prevents excessive perspiration and smoothes wrinkles.
This treatment must be performed by trained professionals to preserve natural facial expressions. At YUVELL®, we pay attention to natural appearance and use botulinum toxin selectively and in appropriate doses. During the consultation, your treatment plan will be tailored to your individual needs and wants.
Since the treatment is not painful, local anesthesia is usually not used. Should you want anesthesia, let your doctor know, and we will anesthize the treatment area before the procedure.