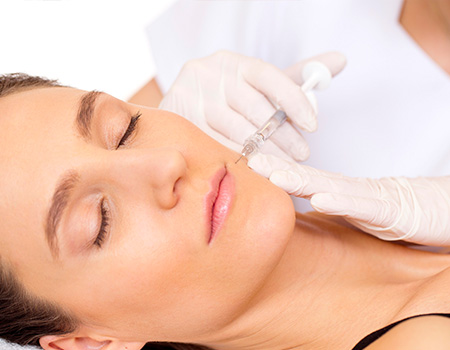 Due to its properties, hyaluronic acid is best used to treat wrinkles, which arise through the loss of skin volume and elasticity that accompany aging. For an anti-wrinkle injection, the filler is injected into the wrinkle, which plumps it up for a while. The hyaluronic acid ensures that the skin is moisturized, through which it is able to regenerate. The skin takes on a fresh and plump appearance after the filler. Treatment with hyaluronic acid rejuvenates and smooths the skin, without altering the patient's natural facial expression.
Treatment with hyaluronic acid fillers is a non-surgical procedure, which leads to immediately visible and natural results. The full effect is visible 1 to 2 weeks after the treatment when the acid has captured and stored sufficient water, and lasts for up to a year.
Book an appointment online now
Post-Treatment Instructions
There is no downtime after the treatment. The patient can leave the institute immediately after treatment.
Innovative approach with a satisfaction guarantee!
You will receive the amount of hyaluronic acid needed for optimal results. The price is not fixed and varies depending on the number of areas in need of treatment.
1 region: 495 EUR
2 regions: 825 EUR
3 regions: 1.105 EUR
4 regions: 1.535 EUR
Valid as of January 2021. Subject to change.
All prices are subject to typographical and printing errors.
Hyaluronic acid (HA) is a natural component of our body and performs important functions such as maintaining the moisture, firmness, and elasticity of skin. Environmental factors such as excessive sun exposure, smoking, poor nutrition, stress, as well as the natural skin aging process influence the degradation of the body's own hyaluronic acid. Through the use of hyaluronic acid fillers, this degradation is effectively counteracted.
Only the highest quality products are used in our clinic. This includes the full range of hyaluronic acid fillers by saypha® from Croma-Pharma. saypha® was specially developed to gently correct wrinkles, build volume and restore the skin's natural hyaluronic acid content and has undergone multiple clinical trials. Hyaluronic acid is biodegradable, which means that the effect of saypha® is temporary. Depending on the condition of your skin, the treatment area, as well as the products used, it can last anywhere from a few months to a year.