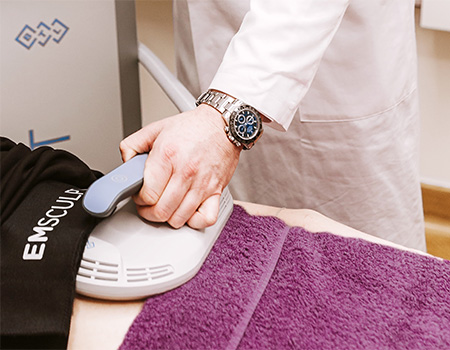 EMSCULPT is the first device of its kind, allowing for a unique non-invasive bodyshaping experience that simultaneously burns fat and builds muscle. During the treatment, an electromagnetic field is generated that stimulates the muscles to contract 20,000 times within 30 minutes, penetrating all muscle fibers. An EMSCULPT treatment is equivalent to 20,000 sit-ups or squats, without any of the effort, sweat, and all in just 30 minutes.
EMSCULPT can be applied to the abdomen, buttocks, arms, and legs. An innovative treatment method with optimal results, and without any side effects or pain.
Book an appointment online now
Post-Treatment Instructions
There is no downtime after treatment with EMSCULPT. The patient can leave the institute immediately after treatment.
Valid as of January 2021.
Subject to change.
All prices are subject to typographical and printing errors.
This FDA-approved medical procedure has revolutionized body contouring. The EMSCULPT device has pulse-emitting handpieces that are stuck onto the body. They generate an electromagnetic field, which generates impulses that stimulate the muscles to thousands of contractions within a very short time span.
The muscle work is enormous due to this high frequency and is equivalent to approximately 20,000 situps (for abdominal treatment) or as many squats (for butt treatment) during a 30-minute session. When building muscle with EMSCULPT, supramaximal contractions are achieved. This type of muscle activity corresponds to certain exercises in bodybuilding or other strength sports. Through the strong electromagnetic field, EMSCULPT achieves much more than conventional fitness training in just a fraction of the time.