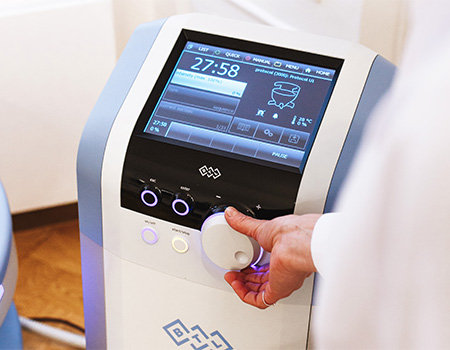 EMSELLA is a modern and non-invasive form of therapy for strengthening the pelvic floor muscles, which takes place on the EMSELLA chair. The treatment is painless. You will feel a slight tingling sensation and contractions in the pelvic floor area. Strengthening your deep pelvic floor muscles through EMSELLA is particularly effective against bladder weakness and helps increase your quality of life and general well-being. A noticeable improvement is already noticeable after one treatment.
An individual treatment plan is prepared before the start of treatment. Usually, 6 consecutive sessions are recommended, with 2 sessions per week. One treatment takes approximately 30 minutes.
Book an appointment online now
Post-Treatment Instructions
There is no downtime after an EMSELLA treatment. The patient can leave the institute immediately after treatment.
Valid as of January 2021.
Subject to change.
All prices are subject to
Typographical and printing errors.
Among other things, EMSELLA is considered a groundbreaking treatment method for incontinence. The procedure is suitable for patients who suffer from stress incontinence, e.g. patients who have undergone a pregnancy, prostate surgery, have a weak pelvic floor, or struggle with incontinence due to their age.
This therapy takes place in a sedetary position, during which the pelvic floor muscles contract about 12,000 times. Six EMSELLA treatments are generally performed to sustainably minimize or even eliminate incontinence.
Furthermore, the therapy is also preventive. EMSELLA is the most modern and easiest pelvic floor training in the world. It is used for general strengthening of the pelvic floor to improve physical well-being and sexual life.