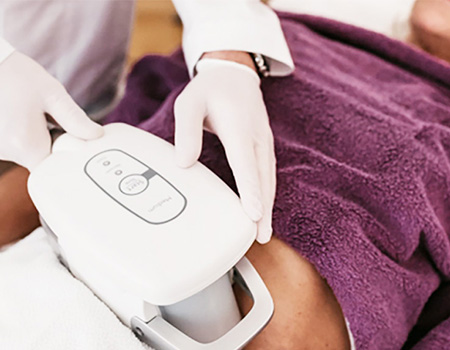 Triple therapy is a new, non-surgical therapeutical procedure During the procedure, fatty areas of the body are treated with cold, small injections and shock wave therapy. The treatment focuses on the destruction and breakdown of fat cells and on the tightening and blood circulation of the tissue.
Triple Therapy is ideal for patients who, despite a healthy diet and regular exercise, have some stubborn areas of the body with fat deposits. The appearance and persistence of these fat cells are caused by genetic factors or related to the nature of their fat cells. In these cases, it is most often not possible to eliminate the fat deposits in a natural way.
Unlike diets, which shrink fat cells, our treatment permanently reduces them.
Book an appointment online now
Post-Treatment Instructions
There is no downtime after the treatment. The patient can leave the institute immediately after treatment.
No skin-irritating creams such as acne ointments or fruit acid creams in the first 3 days after treatment or until any accompanying symptoms (ie. redness, swelling) have subsided.
No physical activity and/or sauna on the day of treatment
No solarium in the following weeks
Consistent, daily sun protection with SPF 50+
One region 790 EUR
Two regions 990 EUR
Valid as of January 2021.
Subject to change.
All prices are subject to typographical and printing errors.
The first step of the treatment is icing of the areas in need of treatment. This is done with the help of an applicator. Fat cells are dissolved by the cold. With the help of the injection of the body's own bile acid, which is responsible for fat digestion in the stomach, the fat cells dissolved by the cold are broken down. This results in a tightening of the skin.
The cold numbs the areas being treated, so the treatment incurs little to no pain. The final part of the treatment is distributing the active ingredient in the tissue. For this, shock waves are used to break down fat cells and promote blood flow. This final step also stimulates the formation of collagen fibers and makes your skin more elastic.