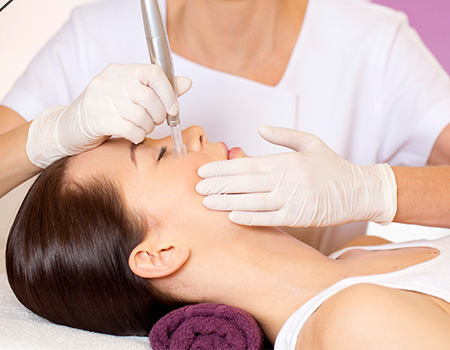 Microneedling is a gentle cosmetic procedure that is used to refine and revitalize the skin's appearance. A treatment head equipped with small needles inflicts tiny micro-injuries, which stimulates the regeneration processes, new collagen formation, and blood circulation in the skin tissue. In the course of the treatment, the skin appearance improves visibly.
The results of microneedling are instantly visible. With each subsequent treatment and regeneration process, the skin's appearance continues to improve. Blemishes such as large pores, wrinkles, pigmentation spots and scars are reduced.
Book an appointment online now
Post-Treatment Instructions
There is no downtime after microneedling. The patient can leave the institute immediately after treatment.
No skin-irritating creams such as acne ointments or fruit acid creams in the first 3 days after treatment.
No shaving in the treatment area as long as the skin is irritated
No physical activity and/or sauna on the day of treatment
No solarium in the following weeks
Consistent, daily sun protection with SPF 50+
Derma Roller – Full Face 299 EUR
Derma Roller – Décolleté 299 EUR
Derma Pen – partial 165 EUR
Valid as of January 2021.
Subject to change.
All prices are subject to
Typographical and printing errors.
Microneedling involves inserting tiny needles into the top layer of skin (epidermis) with the help of a so-called derma roller or derma pen. The needle length is usually about 0.5 mm. As a reaction of the body to the micro-injuries, the body's own skin regeneration is stimulated, which improves the elasticity of the skin. The revitalizing process relieves a wide variety of skin problems, such as wrinkles, pigmentation marks, stretch marks, or even acne scars after just a few sessions.
An additional benefit of microneedling is the increased receptiveness of the skin to the effects of complementary skin care products. Thus, the effect of the treatment can be maximized by also using serums and other active ingredients, which can be optimally absorbed by the skin after the microneedling.